Illinois Sales Tax – Frequently Asked Questions
---
Buying a vehicle in Chicago can be a confusing process with the different prices, fees, and taxes that come with purchasing. To begin there's the MSRP, which is the Manufacturers Suggested Retail Price, then you'll pay the registration fee, document fee, and a new sales tax in Illinois as of January 1, 2020. Read our guide to see how the new sales tax law will change how much you pay for a car in LaGrange.
How Is Sales Tax Calculated?
Your sales tax and tag fees are based on these items:
The county your vehicle is registered in
How much your vehicle weighs
The type of license plates
The state you live in
Whether you're buying a new or used vehicle
What is the Sales Tax On a Car in Illinois?
When the new Illinois sales tax law goes into effect, the sales tax you pay for a new or used car will be based on the city you live in. For example:
Countryside Sales Tax: 9.75%
Joliet Sales Tax: 8.75%
Naperville Sales Tax:  7.75%
Aurora Sales Tax: 8.25%
Oak Brook Sales Tax: 7.5%
How Will Leasing Affect a Car's Sales Tax in Illinois?
When you lease a car in Illinois, you pay the sales tax on the cost of your new or used car. However, you'll only owe tax on your monthly payment rather than on the total value of your vehicle. If you decide to purchase your vehicle at the end of your lease, you'll pay a sales tax on the depreciated price.
Will a Vehicle Trade-In Affect Paying Illinois Car Sales Tax?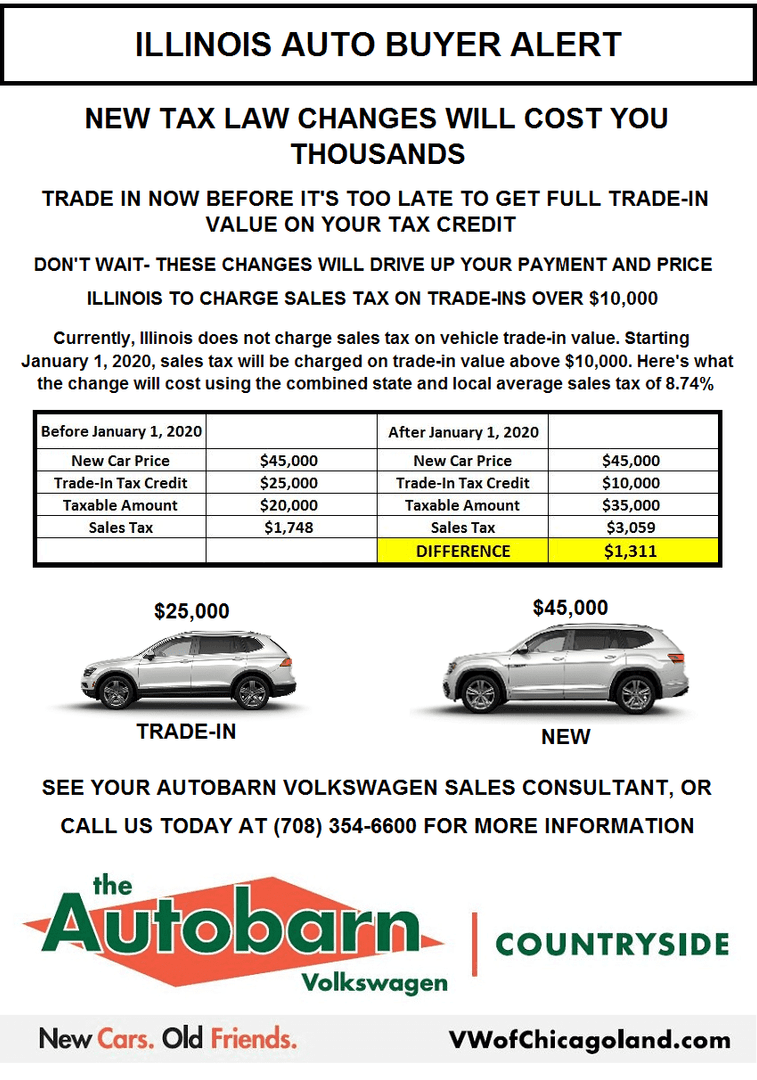 When you trade-in your old car, you can lower the amount you pay for your new vehicle. If the dealership can sell your trade-in, you will be taxed on the new reduced price. With the new Illinois tax law, a sales new tax will be applied to a trade-in value above $10,000. For example, if you trade-in your current Volkswagen and receive a trade-in value of $10,000 – and then you buy a new car for $45,000 – you'll pay a sales tax on the remaining $35,000. With the new tax law, Countryside drivers will be paying an additional $3,412.50 in taxes (with a tax rate of 9.75%).
Do I Have to Pay Illinois Sales Tax On a Car I Bought Out Of State?
If you're a resident of Naperville, Illinois and purchase a vehicle in a state where there is a lower sales tax, you must pay the difference to the Illinois Department of Revenue because the Illinois Vehicle Code has a Use Tax for the privilege of driving the vehicle in Illinois.
Learn More With Our Financing Department!
Managing the taxes, fees, and the price of buying a new car in Illinois can be confusing, and with the new sales tax law, it can become even more complicated. Contact us with your questions and our team of financial experts will help you organize all the costs for a new vehicle. We'll also help you apply for financing to make sure you're getting the best deal for your budget.