When Should I Get My Oil Changed?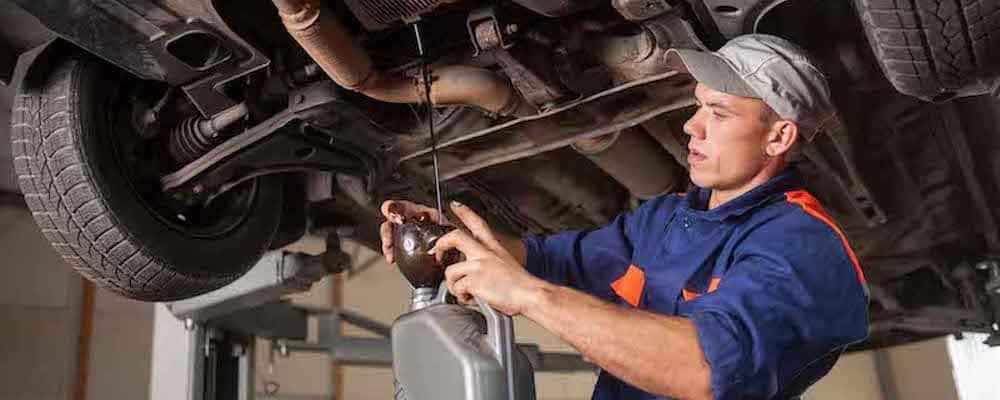 Changing your oil is one of the most critical maintenance services you'll perform on your vehicle, but when should you get your oil changed? That depends on a few factors, but the answer is the same for every vehicle: as often as your manufacturer recommends. Check your owner's manual, then schedule a trip to The Autobarn Volkswagen of Countryside near LaGrange and let us take care of the oil change for you. Remember to also check your oil level monthly.
Do I Need to Change My Oil Every 3,000 miles?
While it was once considered gospel that we should change our oil every 3,000 miles, advances in automotive technology and oil chemistry have made that number obsolete. Many new vehicles, under regular use, can travel up to 7,500 miles before they need a change – longer in some cases.
For some vehicles, more frequent changes could be necessary, however.
Vehicles that drive under what automakers term as "severe" conditions, that is stop-and-go traffic and short trips with lots of idling, might need their oil changed sooner, for best performance. Other vehicles, such as trucks and off-road SUVs who are exposed to extreme driving conditions, excessive cold or heat, humid conditions, or used for towing, could also require more frequent changes.
In the end, this is why we tell our Chicago and Naperville drivers to follow their owner's manual.
Schedule Your Oil Change at The Autobarn Volkswagen of Countryside
If you do find that it's time to change your vehicle's oil, or if you have other issues that need attention, schedule a service appointment at The Autobarn Volkswagen of Countryside and take advantage of money-saving coupons designed to keep your vehicle humming like new for less. Plus, when you get your oil changed regularly at The Autobarn Volkswagen of Countryside, you'll also be eligible for road hazard tire protection and towing reimbursement*! In short, The Autobarn Volkswagen of Countryside will repair a flat tire damaged by a road hazard between the date of your qualifying service and the benefit expiration date. These benefits can be renewed simply by returning to The Autobarn Volkswagen of Countryside for another qualifying service. To learn more about our oil changes or our road hazard coverage, simply contact us today!
More From The Autobarn Volkswagen of Countryside
The polished look and relaxed seating in the new Volkswagen Jetta interior provide Chicago drivers with top-tier luxury and one of the most enjoyable drivers available. Regardless of whether you're talking technology, entertainment, cosmetics, Volkswagen Jetta dimensions, or anything else about the interior of this classic, you're getting top-of-the-line all the way around. If you've…

With rising gas prices around Countryside, many drivers are looking to find a vehicle that gets the most out of every drop of fuel. To get the space you need in an SUV, most Chicago drivers assume you have to give up on efficiency. The new Volkswagen Atlas, however, allows its owners to experience…

Are you eagerly anticipating the 2023Volkswagen ID.4? So, are we. The ID.4 has elevated the quality of affordable electric vehicles, which is why they've become so popular with Countryside drivers. We can't wait to see the beautiful VW ID.4 interior. Not only does this car look great on the inside, but there's plenty of room…