Can You Buy a Volkswagen Bus?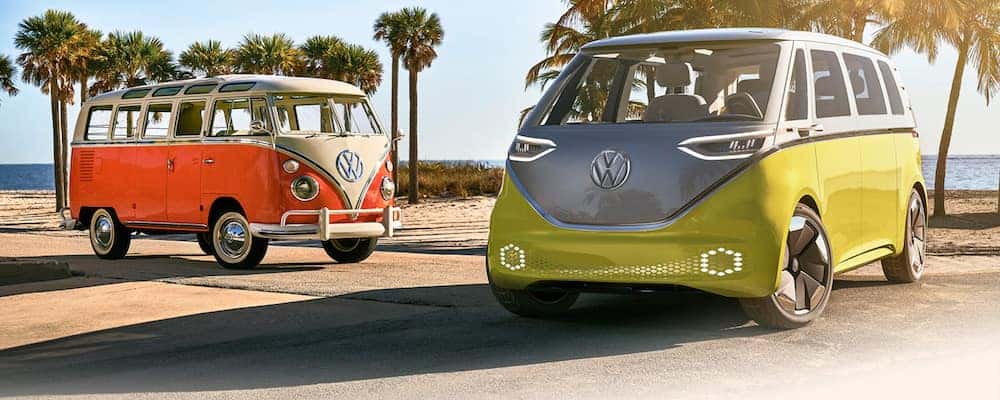 Looking for a Volkswagen Bus for sale? While we've occasionally had a classic model like a VW Bus pass through our showroom, it's a rarity — drivers looking to buy one might be able to find one with a vintage car seller, though. If you've already found one for sale online, you'll need to bring it to a mechanic who knows VW models, ideally one who has serviced a VW Bus before — they need some special treatment.
The Autobarn Volkswagen of Countryside is here with some alternatives to buying a bus, as well as a possible future for the icon.
Rent a Volkswagen Bus
Renting a Volkswagen Bus gives you the opportunity to enjoy this classic vehicle for your next road trip without worrying about the upkeep that comes with a vintage vehicle. Just search for "Volkswagen Bus Rentals Near Chicago" to get started. Keep an eye out for some of the many variations, including:
Volkswagen Camper Van
Volkswagen Hightop Camper Van
Volkswagen Samba-Bus or Deluxe Microbus
Volkswagen Westfalia Camping Van
Volkswagen Type 2 (T1) Microbus
Volkswagen Type 2 (T2) "Bay Window" Bus
Volkswagen Bus Tent
History of the Volkswagen Bus
The first Volkswagen Type 2 Microbus was introduced in 1950 and is what usually comes to mind when people think of the VW Bus. It incorporated an air-cooled engine in the rear of the vehicle, and the original model had a classic split windshield design.
Different variants were produced over the years, and some are more prized among collectors than others. They're typically differentiated by the number of windows, with the Volkswagen Samba known for its 23-window design, the most windows offered in a
Wondering why the Bus is no more? A 1964 tax on vehicles like the VW Bus caused a sharp increase in price and a decrease in sales, removing many later models from the American market.
Is the Volkswagen Bus Coming Back?
VW has recently announced that an electric VW Bus is in the works, with a possible release in 2022. Based on the I.D. Buzz concept, the new model uses VW's Modular Electric Drive kit.
The 2022 VW Bus is expected to be on the same platform as an upcoming electric VW SUV, based on the I.D. Crozz concept vehicle.
The I.D. Buzz concept (pictured above with a classic Bus) is designed for a 300 mile driving range and is able to recharge up to 80 percent in 30 minutes thanks to the VW fast-charge system.
A variety of seating options and configurations will make the I.D. Buzz a versatile family option for Chicago and LaGrange drivers.
Turn to The Autobarn Volkswagen of Countryside for Current VW Models
If you're looking for a new Volkswagen with plenty of room, The Autobarn Volkswagen of Countryside offers the new VW Tiguan and VW Atlas. Contact us to learn more about our family vehicles or check in to see if we know where you can find a Volkswagen Bus for sale.
More from The Autobarn Volkswagen of Countryside
The polished look and relaxed seating in the new Volkswagen Jetta interior provide Chicago drivers with top-tier luxury and one of the most enjoyable drivers available. Regardless of whether you're talking technology, entertainment, cosmetics, Volkswagen Jetta dimensions, or anything else about the interior of this classic, you're getting top-of-the-line all the way around. If you've…

With rising gas prices around Countryside, many drivers are looking to find a vehicle that gets the most out of every drop of fuel. To get the space you need in an SUV, most Chicago drivers assume you have to give up on efficiency. The new Volkswagen Atlas, however, allows its owners to experience…

Are you eagerly anticipating the 2023Volkswagen ID.4? So, are we. The ID.4 has elevated the quality of affordable electric vehicles, which is why they've become so popular with Countryside drivers. We can't wait to see the beautiful VW ID.4 interior. Not only does this car look great on the inside, but there's plenty of room…