Our Picks for Best Pizza in Chicago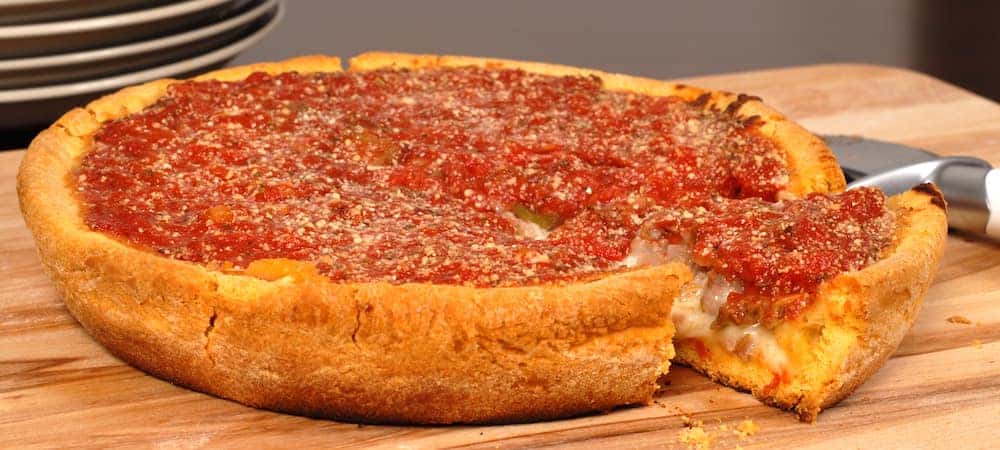 One of the best things to do in Chicago when the weather turns cold is to warm up with some hot, delicious pizza. Chicagoland pizzerias are known for packing unique flavors into their distinctive deep dish pies, and we've rounded up our top 4 favorite pizza restaurants in Chicago to tempt your palate. Whether you like classic Chicago deep dish or want to expand your pizza horizons with different Italian styles, this list will help you discover your new go-to spot! After you indulge in some great pizza, explore the city or attend fun seasonal events like the Chicago Auto Show!
Lou Malnati's
No discussion about Chicago pizza can even begin without a shout out to Lou Malnati's. This icon has been part of the Chicagoland restaurant scene since 1971, where Lou himself began serving up the same perfect blend of tomatoes and mozzarella on his flaky, butter crust that diehards swear by today.
Spacca Napoli
Just because we're in Chicago doesn't mean every slice has to be deep dish. Spacca Napoli specializes in Neapolitan pies, with fresh made dough crafted by fourth generation Napoli artisans. With thin crust flavors including everything from fresh arugula to prosciutto, there's something for everyone to explore and enjoy.
Roots Handmade Pizza
Taste the difference of a pizza made from scratch using fresh, local ingredients. Roots Handmade Pizza serves up pizzas the whole family can enjoy with their hand-tossed, dark-roasted malt crusts stealing the show in every bite. Don't forget to try their house-made sodas and root beers!
Nonno's Pizza
Outside the city limits is local Countryside pizzeria Nonno's Pizza, family owned and operated for over 20 years. Absolutely giant slices loaded with gooey cheese and all your favorite toppings await at this authentic Italian eatery, along with a full menu of pastas, sandwiches, and unforgettable meatballs.
More Around Chicago
One of the best things to do in Chicago when the weather turns cold is to warm up with some hot, delicious pizza. Chicagoland pizzerias are known for packing unique flavors into their distinctive deep dish pies, and we've rounded up our top 4 favorite pizza restaurants in Chicago to tempt your palate. Whether you…

Our community has always been a home for travelers and adventurers of all stripes, and when you book your stay at one of these fabulous Chicago hotels, you'll be able to experience the city as it was meant to be seen. Contact Us Chicago Hotels Two of our favorite options are located in up-and-coming neighborhoods,…

Chicago is known for having plenty to do in the summer. With the multiple beaches, countless street fests, and variety of outdoor patios where you can enjoy a delicious meal or drink, summer in the city can't be beat. Even so, Chicago doesn't shut down when the season changes — and there are good things…